Who we are
Formerly named Vehicle Tracking Solutions (VTS) and known for our telematics product 'Silent Passenger', we rebranded in 2020 to IntelliShift, providing the market with an all-in-one fleet intelligence platform. IntelliShift has been in business more than 20 years and have assembled a team with hundreds of years collectively as fleet management experts focused on making sure our customers succeed.
Your success is our mission. We work to make our fleet intelligence platform easy to use and partner with you to get to a positive ROI faster than you knew was possible.
A history of innovation
Click to Drag Timeline
IntelliShift New Look – Increased ease of use and power in one platform
Became a Video Safety Company
20 Year Anniversary!
Added a VP of Fleet Evangelism – Erin Gilchrist Rugg. Erin is the 2019 Fleet Manager of the Year, and spent 15 years at Safelite AutoGlass where she oversaw all aspects of fleet operations.
Launched the Straight Talk on Fleet podcast
Launched the Fleet Maintenance Module
Debut of AI Dashcams, a video telematics and safety management solution
IntelliShift secures $70 million investment from LLR Partners
IntelliShift launches as a streamlined platform, unifying fleet and asset operational data while reducing the number of applications clients rely on
Launch of Inspect, a digital inspection form and workflow optimization app
Recognized by C.J. Driscoll & Associates as a top 10 provider in the U.S. mobile resource management market
Release of Silent Passenger Telematics app with Google Maps
Design, development, and release of Android, Apple, and Blackberry mobile apps
R&D-focused New York headquarters open, facilitating 180% growth in client subscriptions over two years
Silent Passenger™ launches a integrated two-way messaging and routing solution for clients
Launch of software with the industry's first-ever real-time speed violation application
Recognized by Inc. 5000 as one of the fastest-growing U.S. companies, and ranked No. 19 of the top 100 Transportation Companies, with three-year growth of 260%
Release of Silent Passenger™, a cloud-based solution that enables clients to view fleets via a web application
Creation of a dedicated secure data center
Launch of FleetMinder™, a client server-based, real-time GPS fleet management system
IntelliShift founded by John and Karen Cunningham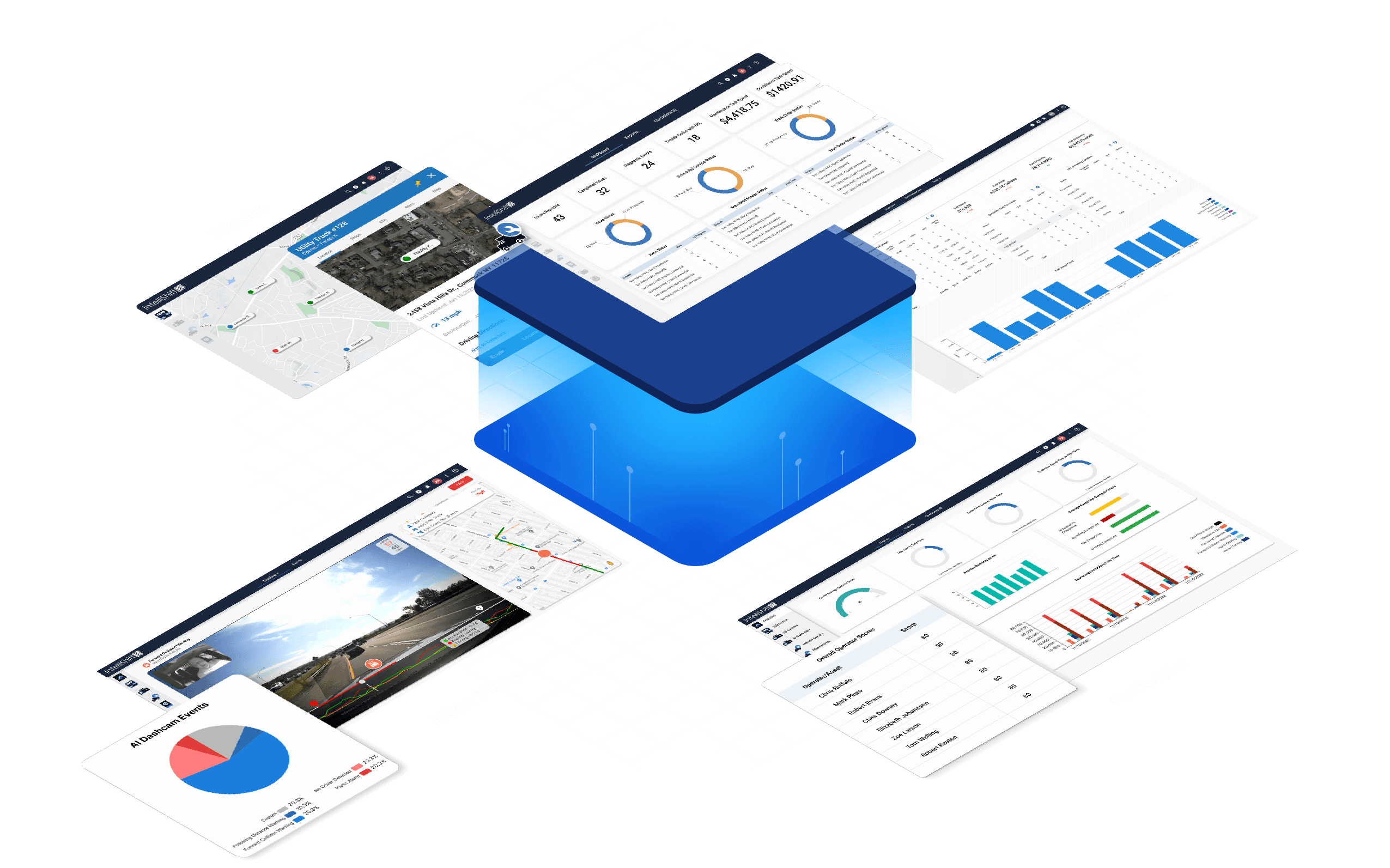 What We Do
IntelliShift is the only fleet intelligence platform that enables businesses with fleets of vehicles and heavy equipment to easily access all fleet operations and safety data from a single platform.
Leverage AI dash cams, telematics, digital inspections, maintenance, and compliance technology to drive better business outcomes. We empower your team to make the intelligent shift from multiple point solutions and siloed data to one consolidated, simple, powerful platform.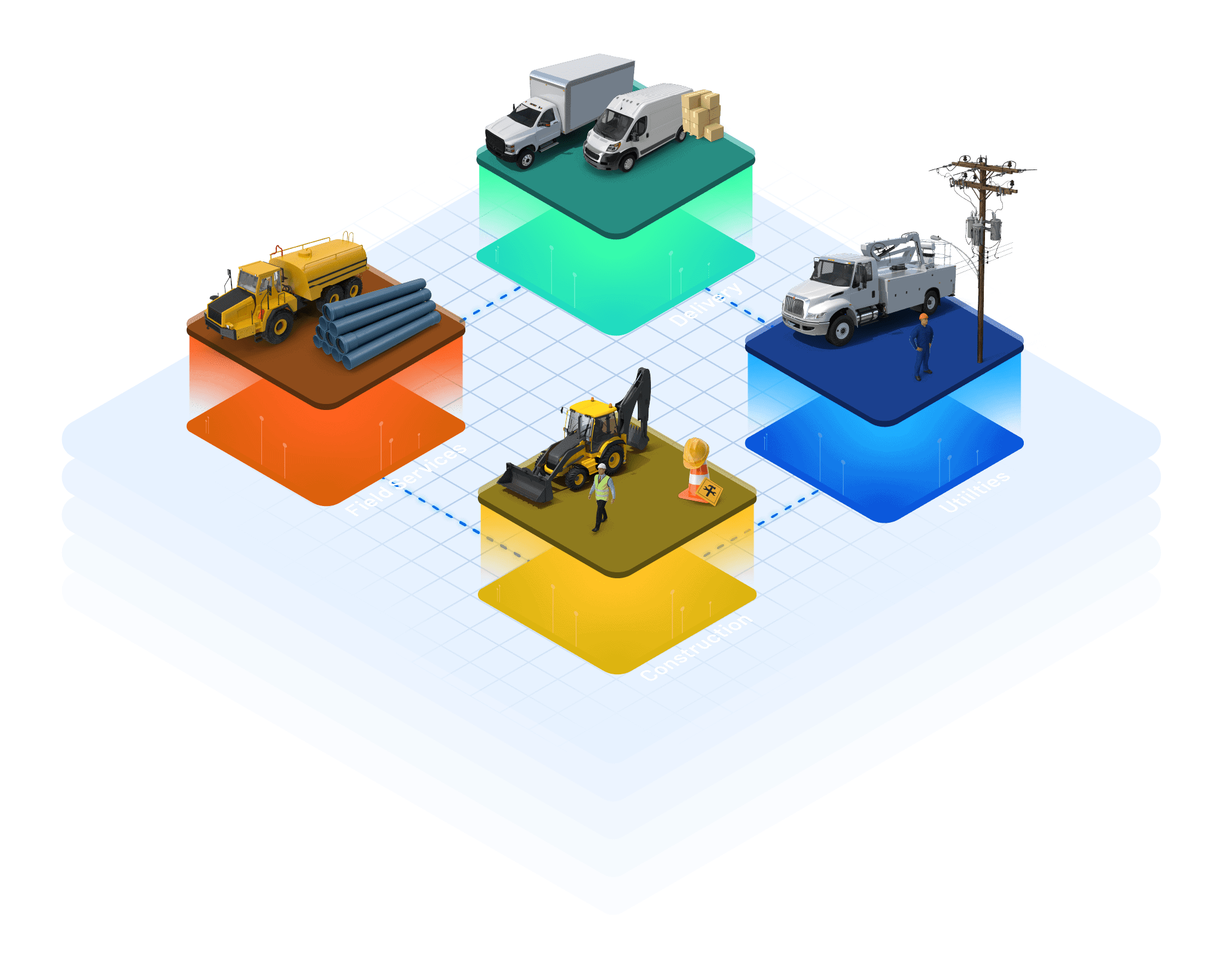 Who We Help
IntelliShift is committed to building the most powerful and easy to use fleet management platform for men and woman in charge of fleet safety, operations, and efficiency.
While we help customer in many industries, we are experts when it comes to:
1. Construction
2. Field Services
3. Utilities
4. Last Mile and Delivery
Get A Demo
How We Help
Whether you are an enterprise with hundreds or thousands of vehicles, equipment and assets, or growing your fleet,
IntelliShift is designed to help your team in three ways:
IntelliShift is a single connected fleet platform
Hear Erin GilChrist explain how this is a big improvement from a fleet manager's perspective.
Watch Now
IntelliShift in the news
Read our latest newsworthy coverage.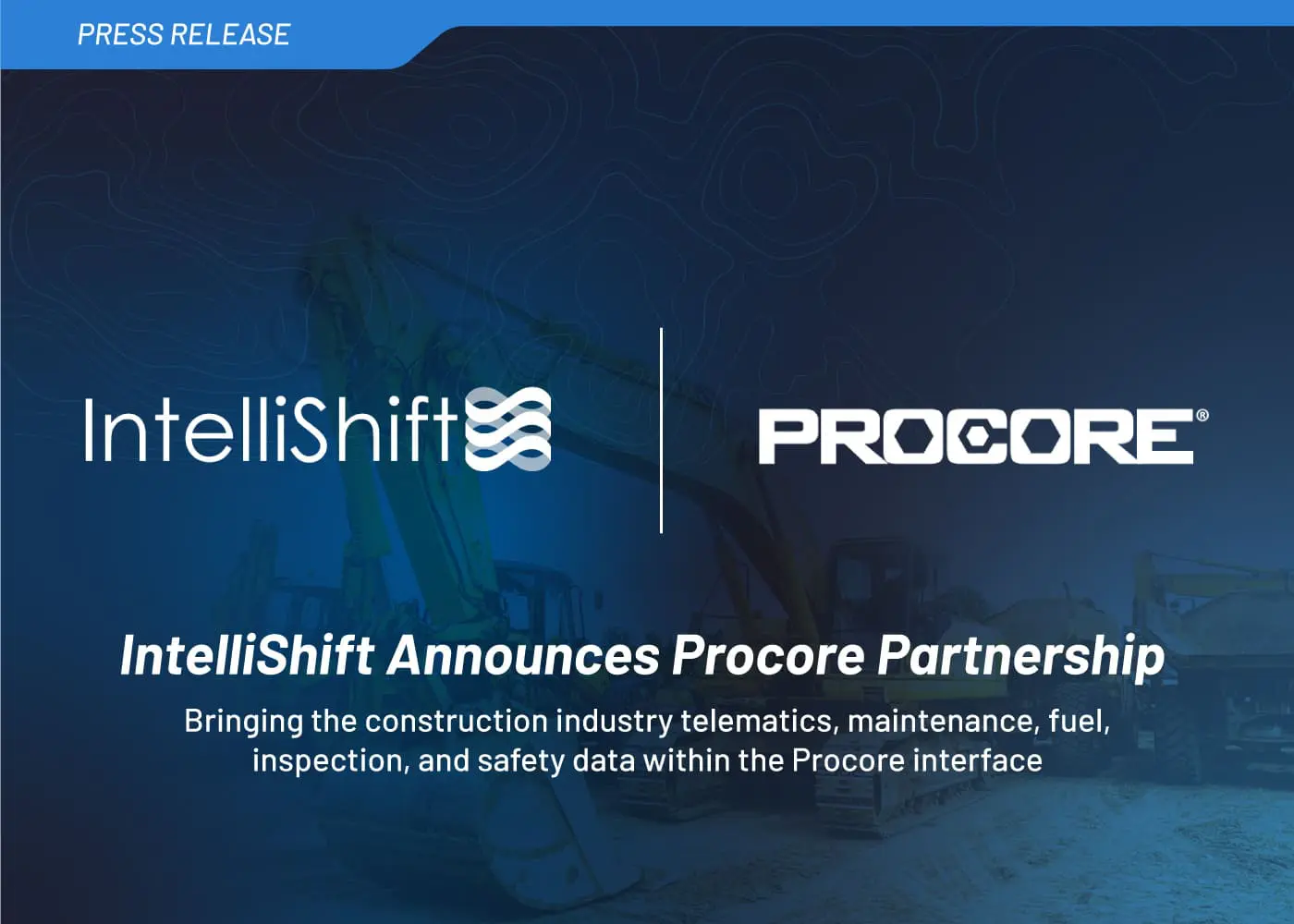 IntelliShift Announces Procore Partnership
Bringing the construction industry telematics, maintenance, fuel, inspection, and safety data within the Procore interface 
Read Now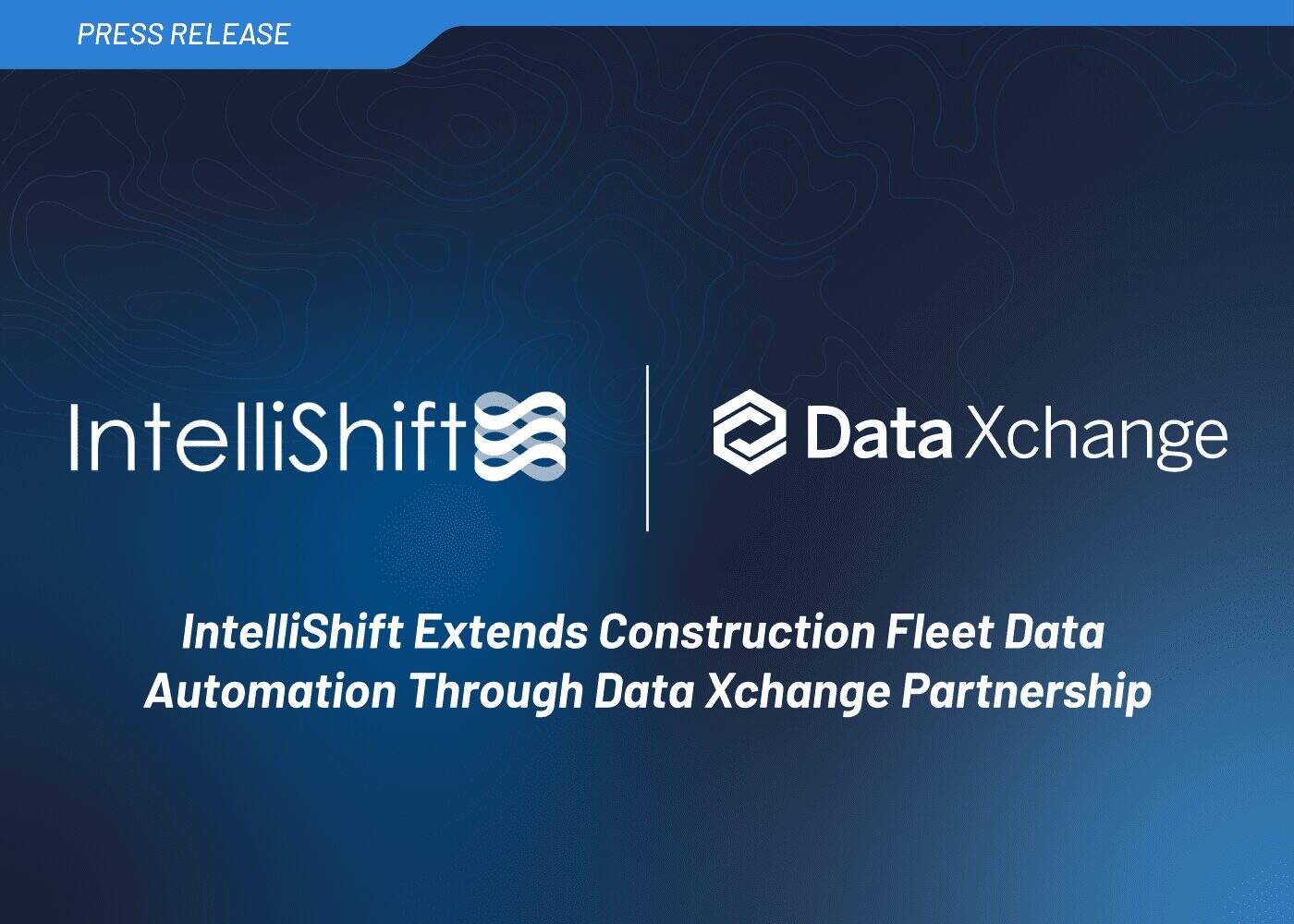 IntelliShift Extends Construction Fleet Data Automation Through Data Xchange Partnership
Announcing telematics, safety, and construction enterprise resource planning integration for Trimble Viewpoint Vista users
Read Now
IntelliShift Wins IoT Analytics Company of the Year Award
Prestigious Annual IoT Breakthrough Awards Program Honors Standout Internet-of-Things Companies and Products
Read Now
Browse All
Join our team
Join our team
We're driving the future of how business moves.
Always Put the Customer First
We value our Customers and realize that without them we cannot be successful. We design our platform, processes, and overall customer experience with the Customer in mind. Our customers chose us because they trust us, so it is our duty to ensure we exceed their expectations to gain their loyalty and keep their business.
Embrace and Drive Change
We must all learn to not only get past our fear of change, but to embrace it enthusiastically, encourage it and drive it with others. Software and technology changes at a rapid pace and in order to keep winning we need to keep pushing forward with an innovation mindset.
Think Bigger
Whatever you are thinking, think bigger... we are committed to growth...new customer growth and professional and personal growth...expand your thinking and broaden your skill set...we all benefit. 
Be a Good Human
Treat everybody with respect. There is no place at IntelliShift for pettiness or meanness to others. We all act with empathy to our fellow team members and our customers. Always do what is best for our company, our team members, our customers, and the communities where we live and work.
Execute with Passion and Urgency
You can never underestimate the benefit of teams operating with passion and drive. This is what it takes to be the very best at what we do.
Drive Trust and Transparency
With our fellow employees and with our Customers. Everything works better with open and honest communication. Trust yourself and your fellow team members to be able to take risks, don't be afraid to fail – we don't fail, we learn.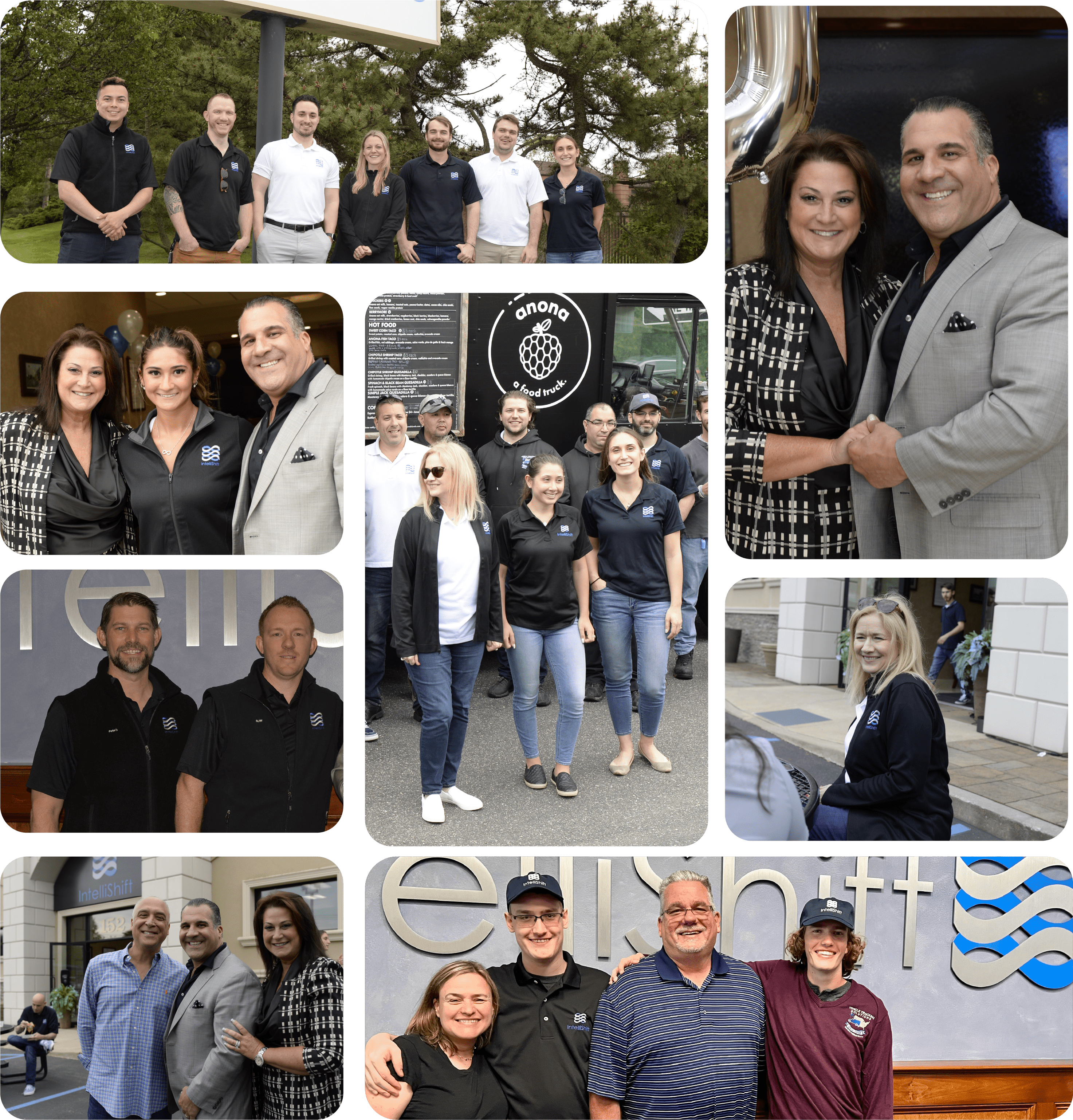 Life at IntelliShift is not about surviving the daily grind. It's about thriving as part of a team and working toward a common goal — the success of our customers and employees. No matter your title, every member of the IntelliShift team is valued and respected in both their professional and personal aspirations.
Our culture is driven first and foremost by "The Golden Rule" and by recognizing that our continued success as an organization depends on people who are both happy in their work and relentless in their pursuit to be better versions of themselves.
Regardless of whether you work from one of our designated offices or remotely from the comfort of your home, you'll be afforded the opportunity to enhance your expertise as part of a thriving organization in an industry slated for 4x growth over the next 5 years.
Contact us
Have questions? Let's connect.
IntelliShift HQ
152 Veterans Memorial Highway
Commack, NY 11725