The Best Dash Cams Include Advanced Telematics
We started by solving many of the problems that the first-generation AI Video solutions left out. We offer the industry's tightest integration of video, AI, advanced telematics, and engine diagnostics in modern hardware that deploys in 30 minutes or less.
Dual dash cams are a safety investment with immediate ROI and a performance guarantee.
Why Choose Dash Cams for Fleet Vehicles?
63%

Unsafe following distance1
AI Dash Cam Capabilities
Distracted Driving Detection and Correction
Immediate in-cab alerts correct risky behaviors such as phone use, inattentive driving, and tailgating in real time before accidents happen. Audible alerts set for the behaviors you define bring the driver's attention back to the task at hand.
Tailor Settings to Meet Your Fleet Safety Standards​
Rich data from G-force sensors and telematics augments data captured from video, delivering insights on speed, acceleration, harsh braking, and harsh turning. Sensitivity is easily adjusted to fit your use case and business, so data is manageable and actionable.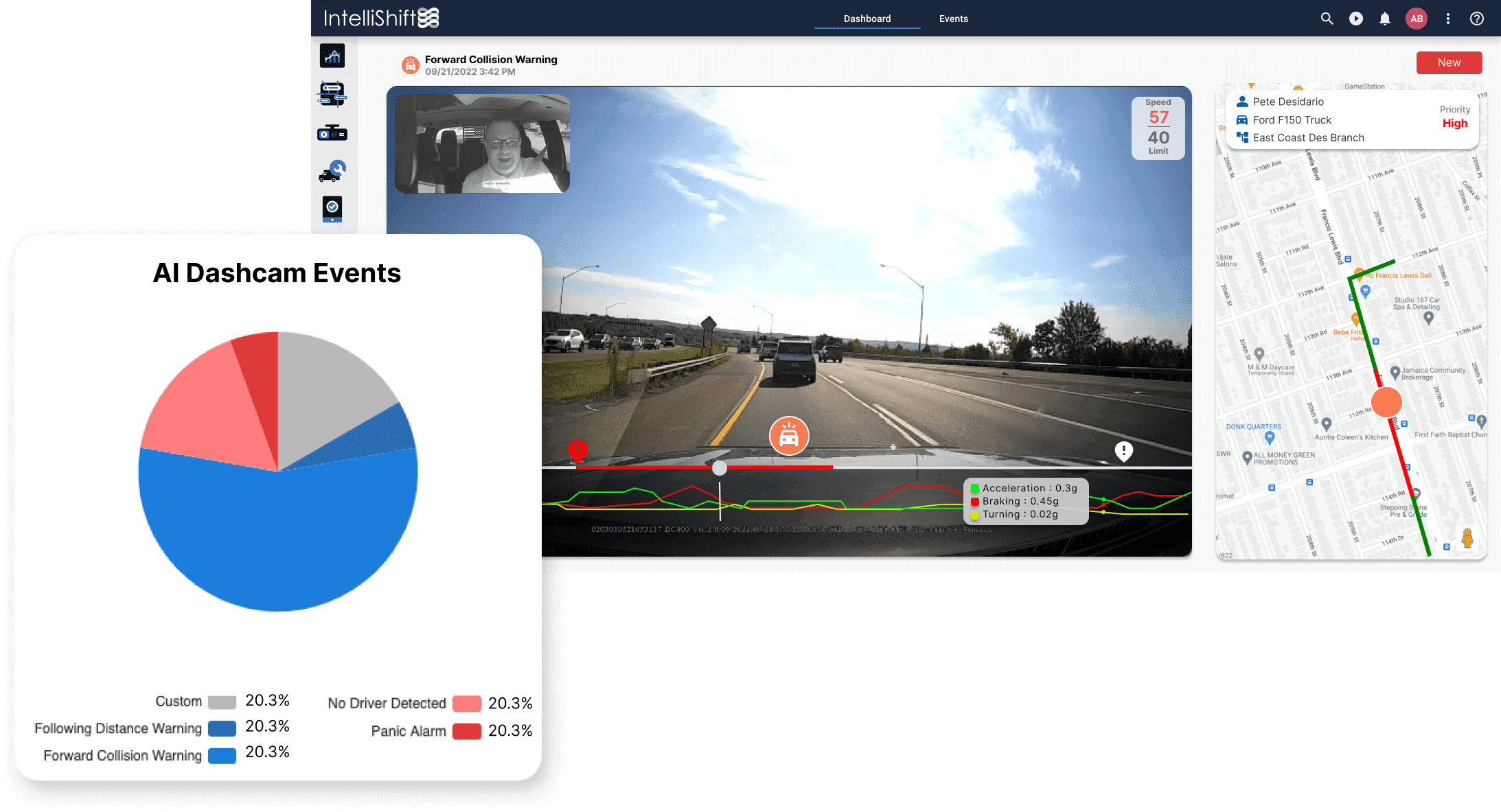 Visualize Your Data​ and Safety Event Insights
You don't need more video. Get the most critical video events in context to act fast. Powerful dashboards and on-demand video clips aggregate and visualize AI dash cam events, allowing users to quickly understand and measure the impact of driver coaching and proactive alerts.
Lose the Dash Cam, Keep the Vehicle
When vehicles are stolen, dash cams get ripped out in the process. Unlike a basic dash cam with GPS, our fully integrated advanced telematics solution remains discretely hidden behind the dash. You will never lose your vehicle to theft.​
Book a demo
The Integrated Dash Cam for Fleet Vehicles
AI Dash Cams: The Only ​Fleet Safety Investment that​ Guarantees a Positive ROI​
Reduce Risk in Real-Time
Dual dash cams with proactive in-cab alerts protect drivers and operators from hazardous road conditions by augmenting their human capabilities.
Lower your insurance premiums.
Many insurance carriers offer discounts to fleets that deploy AI dash cams in their vehicles. It's a fact: safer fleets enjoy lower insurance costs.
Protect drivers and your brand against false claims.
Exonerate innocent drivers and reduce settlement costs by ensuring accuracy and fairness in post-accident fault determination.
Don't pay for AI features you don't need.
That makes sense to us. We built the solution to do everything you need without weighing it down with a bunch of finicky gimmicks that just drive up your costs and rarely pay for themselves.
Book a Demo
Watch Demo
Watch Demo
The Best Dash Cams for Fleet Safety
If you have been seeking an AI dash cam for fleet vehicles, look no further. Learn how IntelliShift's dual dash cam integrated with AI solves a myriad of challenges and has immediate proven ROI.
Event Detection

Reporting

Camera
Integrated ADAS
Monitor and alert for possible safety risks: forward collision, close following, and more.
Real-Time In-Cab Coaching
Audio coaching proactively prevents incidents.
Email and Text Alerts
Get notified whenever footage of an event is available.

Distracted Driving Detection
Phone usage, inattentive driving, and more.

Set coaching status
Flag new events with coaching needed, no coaching needed, or coached.
Parking mode recording
Record for 15 minutes after ignition is turned off.

Easy, on-demand access
Look up event footage in an easy-to-use dashboard and access in real time.

Rich, reliable data
Accelerometer, speed, and map location tied to each event.
1080p HD footage
Event footage is powered by 1080p HD quality cameras.
100 hours of storage
128 GB SD card provides 100 hours of continuous recording.
Front and driver facing cameras
Monitor the road ahead, driver ID, and in-cab events.
Optional audio recording
In-cab audio recording available.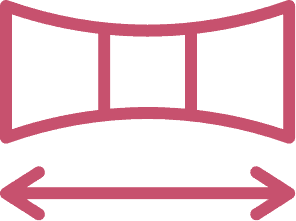 Wide field of view
See everything with 130° road-facing and 113° driver-facing views.
Night vision
IR-powered lens adapts to low-light conditions.
Free E-Book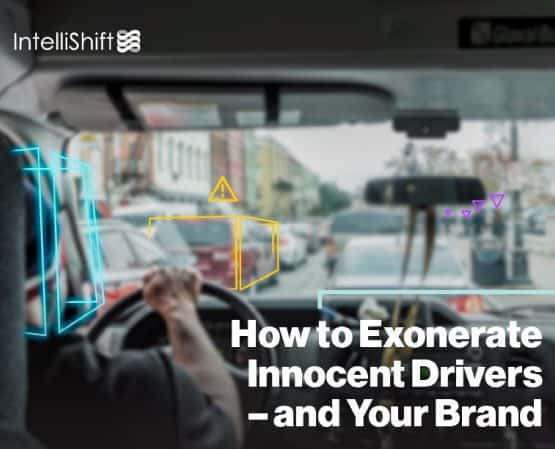 Free E-Book
How to Exonerate Innocent Drivers
Learn how a dual dash cam can prove false insurance claims against your drivers, reduce accident costs, and prevent incidents to begin with.​
Download
Customer Testimonial
Customer Testimonial
Keeping Drivers Safe with AI Dash Cams
John Ogno from Speedy Oil Recovery shares how IntelliShift has helped improve the safety of their drivers with AI Dash Cams.
Watch Demo a of AI Dash Cams
sources
Truck Safety Coalition report on Collision Avoidance Systems
A May 2020 pilot study of an IMVS (in-vehicle monitoring system) conducted by the National Surface Transportation Safety Center for Excellence at the Virginia Tech Transportation Institute (NSTSCE, VTTI)